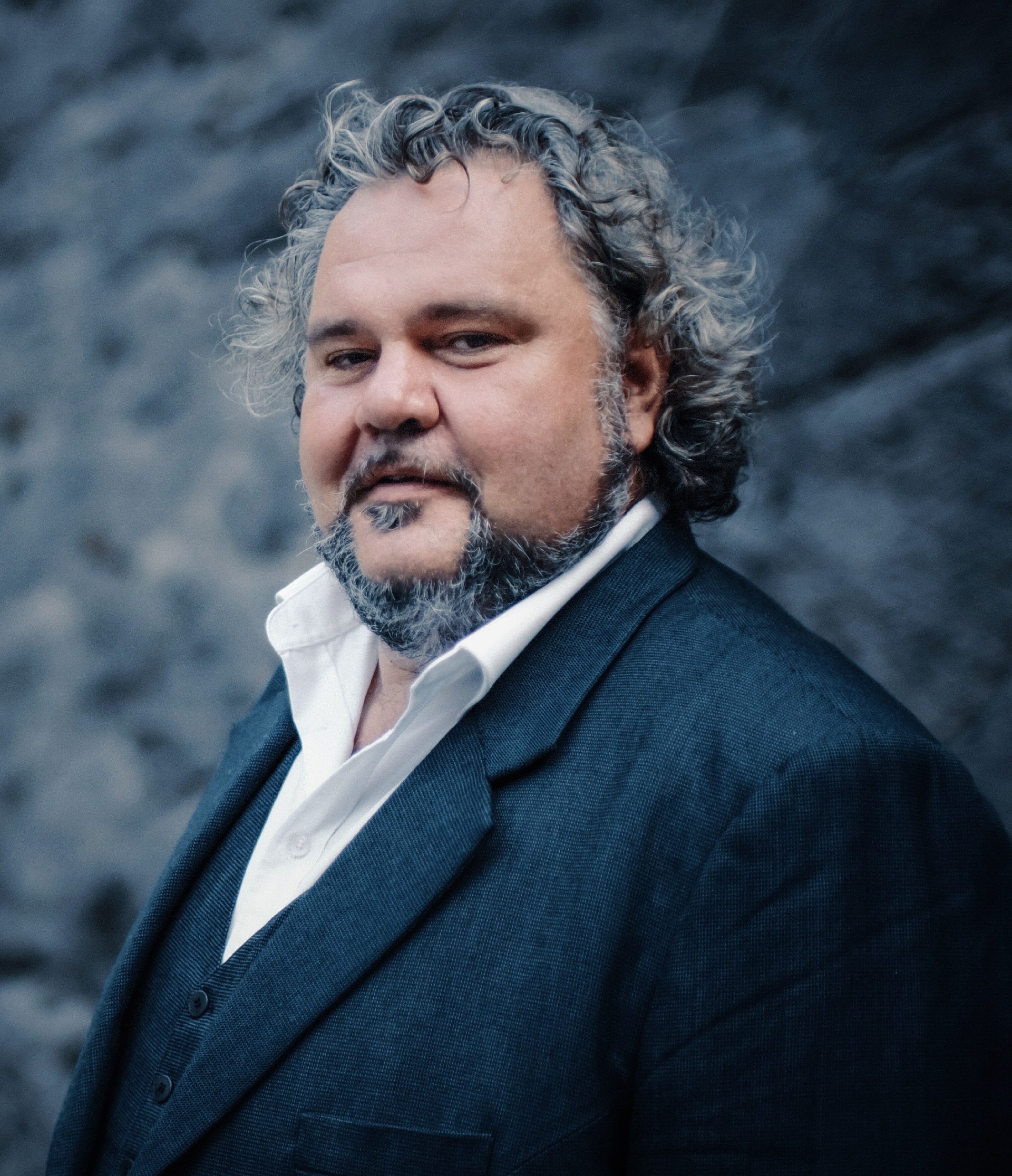 Uwe Schenker-Primus was born in Rosenheim, Bavaria in 1974 and completed his vocal studies in Würzburg in 2006. He then acquired a grant from the Wagner Society and won prizes in several competitions.
His concert and oratorio repertoire ranges from Monteverdi and Bach through Mendelssohn and Orff to contemporary music and includes several premieres. In the field of Lieder his speciality is performing the works of Erich Wolfgang Korngold and Hans Pfitzner; since 2011 he has been recording Korngold's entire works with the pianist Klaus Simon for the Naxos label.
From 2005 to 2009 Uwe Schenker-Primus was a permanent ensemble member of the Mainfrankentheater in Würzburg, where he took roles such as Valentin (FAUST), Guglielmo (COSÌ FAN TUTTE), Peter Besenbinder (HANSEL AND GRETEL), Wolfram (TANNHÄUSER) and Papageno (THE MAGIC FLUTE). Since the 2009/2010 season he has been a permanent ensemble member with the Deutsches Nationaltheater in Weimar where his roles have included the Count in DER WILDSCHÜTZ and THE MARRIAGE OF FIGARO (Figaro as well), the title role in DON GIOVANNI, Speaker (THE MAGIC FLUTE), Onegin (EUGENE ONEGIN), Danilo (THE MERRY WIDOW), Valentin (FAUST), Germont (LA TRAVIATA), Falke (DIE FLEDERMAUS), Pangloss (CANDIDE), Peter Besenbinder (HANSEL AND GRETEL), Sharpless (MADAMA BUTTERFLY), Marcello (LA BOHÈME), Faninal (DER ROSENKAVALIER), Le Bailli (WERTHER), Aeneas (DIDO AND AENEAS), King's Herald (LOHENGRIN) and the title role in Verdi's FALSTAFF.
To date, the baritone has accepted invitations to guest at the Deutsche Oper in Berlin (Le Bailli), at the Komische Oper Berlin (Falke), the Musikalische Komödie in Leipzig (Tsar), the State Theatre in Darmstadt (Danilo) and several times at the Stadttheater in Bremerhaven and the Mainfrankentheater in Würzburg (Danilo, Kurwenal in TRISTAN UND ISOLDE, Falke in DIE FLEDERMAUS), as well as Tevye the Milkman in ANATEVKA at the Eutin Music Festival, as Old Robber Woman in THE SNOW QUEEN at the Esterházy Castle, as Dulcamara in L´ELISIR D´AMORE and as f Papageno, Sprecher, 2. Priester and 2. Geharnischter in Mozart´s THE MAGIC FLUTE at the Oper im Steinbruch (St. Margarethen, Austria).
2022-08-30
WEBSITE
| | | |
| --- | --- | --- |
| Beethoven | FIDELIO | Don Fernando |
| Bernstein | CANDIDE | Maximilian, Pangloss |
| Donizetti | VIVA LA MAMA | Komponist |
|   | LÉLISIR D´ARMORE | Dulcamara |
| Gounod | FAUST | Valentin |
| Humperdinck | HÄNSEL UND GRETEL | Peter Besenbinder |
| Kálmán | DIE CZARDASFÜRSTIN | Feri |
| Leoncavallo | PAGLIACCI | Silvio |
| Lortzing | DER WILDSCHÜTZ | Graf von Eberbach |
|   | ZAR UND ZIMMERMANN | Zar |
| Marschner | DER VAMPYR | Sir Berkley |
| Mozart | LE NOZZE DI FIGARO | Figaro, Graf Almaviva |
|   | DON GIOVANNI | Don Giovanni |
|   | DIE ZAUBERFLÖTE | Papageno, Sprecher |
|   | COSÌ FAN TUTTE | Guglielmo (dt.) |
|   | LA FINTA GIARDINIERA | Nardo (dt.) |
| Offenbach | ORPHEUS IN DER UNTERWELT | Jupiter (dt.) |
| Porter | KISS ME KATE | Gremio (dt.) |
| Puccini | LA BOHÉME | Shaunard |
|   | TOSCA | Sagrestano |
|   | TURANDOT | Ping |
|   | MADAMA BUTTERFLY | Sharpless |
| Purcell | DIDO AND AENEAS | Aeneas |
| Rossini | IL BARBIERE DI SIVIGLIA | Dr. Bartolo |
|   | L´ITALIANA IN ALGERI | Mustafa |
| Strauß | DIE FLEDERMAUS | Falke |
|   | WIENER BLUT | Fürst Ypsheim |
| Trojahn | LIMONEN AUS SIZILIEN | Alberto, Ferdinando, Antonio |
| Tschaikowsky | EUGEN ONEGIN | Eugen Onegin |
| Verdi | LA TRAVIATA | Germont |
|   | FALSTAFF | Sir John Falstaff , Ford |
| Wagner | TANNHÄUSER | Wolfram |
|   | TRISTAN UND ISOLDE | Kurwenal |
|   | LOHENGRIN | Heerrufer |
| Weber | DER FREISCHÜTZ | Ottokar |