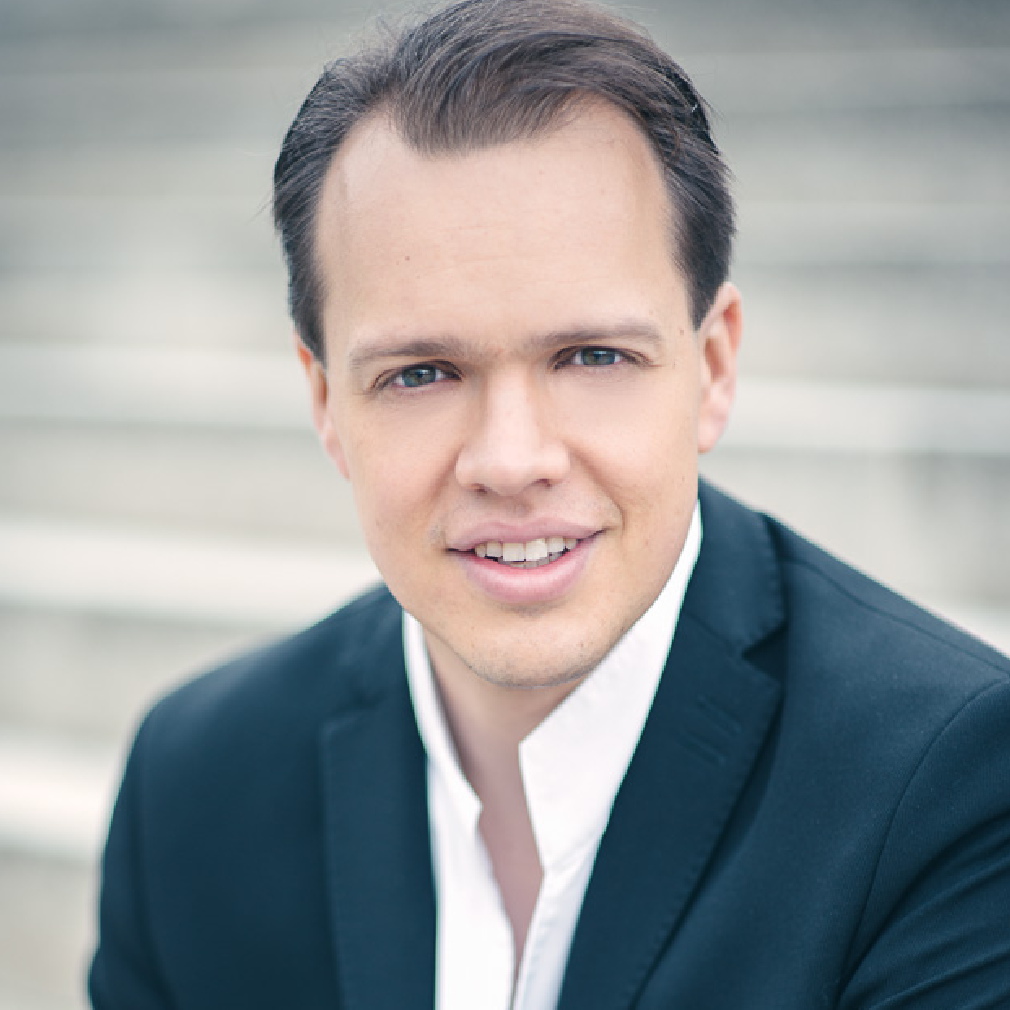 Belgian tenor Thomas Blondelle was born in Bruges, Belgium, in October 1982 and studied singing, piano, composition and chamber music at his home town's Stedelijk Conservatorium. At the KUL University of Leuven, he obtained a master's degree in musicology in 2006. He was awarded the First Prize at the Axion Classics competition in 2001, the Second Prize at the Prix Jâcques Dôme singing competition in 2002, the Prize for a Young Promising Contestant at the Viñas Competition (Barcelona) in 2005 and the Second Prize at the Concours Reine Elisabeth 2011 in Brussels, as well as the French Repertoire Prize (Palazetto Bru) at the 2012 Belvedere Competition in Vienna.
After his first engagement at the Staatstheater Braunschweig (2006 to 2009) he moved to the Deutsche Oper Berlin as a member of the permanent ensemble in 2009. He is singing, amongst many other lyric roles, Tamino (DIE ZAUBERFLÖTE), Merkur (DIE LIEBE DER DANAE), Chevalier (DIALOGUES DES CARMÉLITES), Cassio (OTELLO), Macduff (MACBETH), Ismaele (NABUCCO), Walther (TANNHÄUSER), Prince (L'AMOUR DES TROIS ORANGES), Bob Boles (PETER GRIMES), Herodes (SALOME), Don Ottavio (DON GIOVANNI), Pelleas (PELLEAS ET MELISANDE), Eisenstein (DIE FLEDERMAUS), Hexe (HÄNSEL UND GRETEL), Erik (DER FLIEGENDE HOLLÄNDER), Parsifal (PARSIFAL), Loge (DAS RHEINGOLD) and David (DIE MEISTERSINGER VON NÜRNBERG).
Besides his work as an ensemble member in Berlin, he is also a regular guest in other opera houses. He created the leading part of Melchior Gabor in Benoît Mernier's Frühlings Erwachen at Théâtre Royal de la Monnaie (awarded a Diapason d'or), in 2007, a role he later sang at Strasbourg's Opéra national du Rhin in 2008. He performed Camille (DIE LUSTIGE WITWE), Edwin (DIE CSÁRDÁSFÜRSTIN) and Balduin (WIENER BLUT) at the Operettensommer Kufstein (Austria).
Guest engagements have taken Thomas Blondelle to many venues in many roles, including Bayerische Staatsoper, Volksoper Wien, Oper Frankfurt, Staatstheater Wiesbaden, Schleswig Holstein Musikfestival, Saito Kinen Festival Japan and New York Philharmonic, Nederlandse Opera Amsterdam, Théatre Royal de la Monnaie, Opéra National du Rhin Strasbourg, BBC Scottish Symphony Orchestra, BBC Proms, Edinburgh International Festival, Cincinnati Opera and Staatsoper Stuttgart.
In the recent past, he has been invited by the Bayerische Staatsoper in Munich (Froh/DAS RHEINGOLD and Tanzmeister/ARIADNE AUF NAXOS), by the Volksoper Wien (Balduin/WIENER BLUT), the Schleswig Holstein Festival (Gomatz/ZAIDE), the Saito Kinen Festival (Tenor solo/JEANNE D´ARC AU BUCHER), De Nederlandse Opera in Amsterdam (David/DIE MEISTERSINGER VON NÜRNBERG and Herodes/SALOME), the Luzern Festival (Froh/DAS RHEINGOLD), the BBC Proms (Walther/TANNHÄUSER, Narraboth/SALOME) and the Opéra National du Rhin in Strassburg (Erik/DER FLIEGENDE HOLLÄNDER, Parsifal/PARSIFAL and Claudio/DAS LIEBESVERBOT). He performed the solo tenor role in JEANNE D´ARC AU BUCHER with the New York Philharmonic in New York (Lincoln Center) and at the Philharmonie de Paris, sang Narraboth/SALOME at the BBC Proms in London (Royal Albert Hall), Tambourmajor/WOZZECK with the BBC Scottish Symphony Orchestra in Glasgow and sang the main role of Nikolaus Sprink in Kevin Puts' Opera SILENT NIGHT at Cincinnati Opera. He also guested as Max/DER FREISCHÜTZ, Tenor Solo/DAS LIED VON DER ERDE and Erik/DER FLIEGENDE HOLLÄNDERD in Stuttgart, Herodes/SALOME in Luxemburg, Belmonte/DIE ENTFÜHRUNG AUS DEM SERAIL at Opera Frankfurt and Staatstheater Wiesbaden, where he also sang Loge/DAS RHEINGOLD, Erik/DER FLIEGENDE HOLLÄNDER, Lenski/EUGENE ONEGIN, Matteo/ARABELLA, Tito/LA CLEMENZA DI TITO, Idomeneo/IDOMENEO, and Walther/DIE MEISTERSINGER VON NÜRNBERG.
In concert performances Thomas Blondelle sang Tenor solo/LAMENTATIONES (Strawinsky) at the Philharmonie Berlin, Sir Hervey/ANNA BOLENA at KlangVokal Musikfestival Dortmund, Edwin/DIE CSARDASFÜRSTIN with the Stuttgarter Philharmonikern, Rustighello/LUCREZIA BORGIA at Konzerthaus Dortmund and Philharmonie Cologne and Fernando/DIE RÄUBERBRAUT at the Philharmonie Cologne. As a soloist he performed with the Deutsches Sinfonie-Orchester Berlin, RIAS Kammerchor, Nancy Opera, Sinfonieorchester St. Gallen, Stuttgarter Philharmoniker, WDR Rundfunkorchester, WDR Symphonieorchester Cologne, Nederlands Philharmonisch Orkest, Orchestre de Monte Carlo, Orchestre de Paris, Brussels Philharmonic, Vlaams Symfonieorkest and New York Philharmonic.
He worked with conductors including Yves Abel, Marco Armiliato, Maurizio Barbacini, Paolo Carignani, Alexander Joel, Michail Jurowski, Jiri Kout, Sigiswald Kuijken, Kent Nagano, Carlo Rizzi, Donald Runnicles, Ulf Schirmer, Marc Albrecht, José Cura, Michael Schønwandt, Kazuki Yamada, Lothar Zagrosek and Alan Gilbert.
A devoted recitalist, his repertoire includes the main German song cycles, a recital programme called Banalités (recorded for Fuga Libera), and a recital with Italian Art songs by Rossini, Verdi and Tosti. With mixed solo programmes he made his Japan debut in Tokyo in 2011 and in Madrid, at Théâtre du Châtelet Paris in 2012. His second solo album "Dreams and Nightmares" (with pianist Liebrecht Vanbeckevoort) features songs by Schubert, Wolf, Strauss, Wagner and Liszt and was released in late 2014.
He also works as a librettist (mainly for children's opera's) and composer.
2022-08-30
WEBSITE
DISCOGRAPHY
| | | |
| --- | --- | --- |
| Berg | WOZZECK | Tambourmajor |
| Berlioz | ROMÉO ET JULIETTE | Tenor |
| Britten | PETER GRIMES | Bob Boles |
| Debussy | PELLEAS ET MELISANDE | Pelleas |
| Haydn | ORLANDO PALADINO | Orlando |
| Honegger | JEANNE D´ARC AU BUCHER | Porcus |
| Humperdinck | HÄNSEL UND GRETEL | Hexe |
| Janacek | KATJA KABANOWA | Boris |
| Kálmán | DIE CSÁRDÁSFÜRSTIN | Edwin |
|   | GRÄFIN MARIZA | Graf Tassilo von Endrödy-Wittemburg |
| Langgaard | ANTIKRIST | Der Mund, der große Worte spricht |
| Lehár | DER GRAF VON LUXEMBURG | René |
|   | DIE LUSTIGE WITWE | Danilo |
| Mozart | DIE ENTFÜHRUNG AUS DEM SERAIL | Belmonte |
|   | DIE ZAUBERFLÖTE | Tamino |
|   | DON GIOVANNI | Don Ottavio |
|   | IDOMENEO | Idomeneo |
|   | ZAIDE | Gomatz |
| Paderewski | MANRU | Manru |
| Poulenc | LES DIALOGUES DES CARMELITES | Chevalier |
| Prokofjew | DIE LIEBE ZU DEN 3 ORANGEN | Prinz |
| Reimann | KÖNIG LEAR | Graf von Kent |
|   | L'INVISIBLE | Der Onkel / Der Fremde |
| Ries | DIE RÄUBERBRAUT | Fernando |
| Schreker | DER SCHATZGRÄBER | Elis |
| Smetana | THE BARTERED BRIDE | Hans (Jeník) |
| Strauss | ARABELLA | Graf Elemer |
|   | ARIADNE AUF NAXOS | Tanzmeister |
|   | DIE LIEBE DER DANAE | Merkur |
|   | SALOME | Narraboth; Herodes |
| Strauß | DIE FLEDERMAUS | Gabriel von Eisenstein |
|   | WIENER BLUT | Graf Zedlau |
| Verdi | LA TRAVIATA | Alfredo |
|   | MACBETH | Macduff |
|   | NABUCCO | Ismael |
|   | OTELLO | Cassio |
| Wagner | DAS LIEBESVERBOT | Claudio |
|   | DAS RHEINGOLD | Froh |
|   | DER FLIEGENDE HOLLÄNDER | Erik |
|   | DIE MEISTERSINGER VON NÜRNBERG | David, Walther von Stolzing |
|   | TANNHÄUSER | Walther von der Vogelweide |
|   | TRISTAN UND ISOLDE | Melot |
| Weber | DER FREISCHÜTZ | Max |
| Zimmermann | DIE WEIßE ROSE | Hans Scholl |
Richard Wagner: DAS RHEINGOLD [Official trailer]
»Es ist letzlich doch ein Abend geworden« | Idomeneo & Titus in Wiesbaden
Thomas Blondelle - La Chanson du bébé