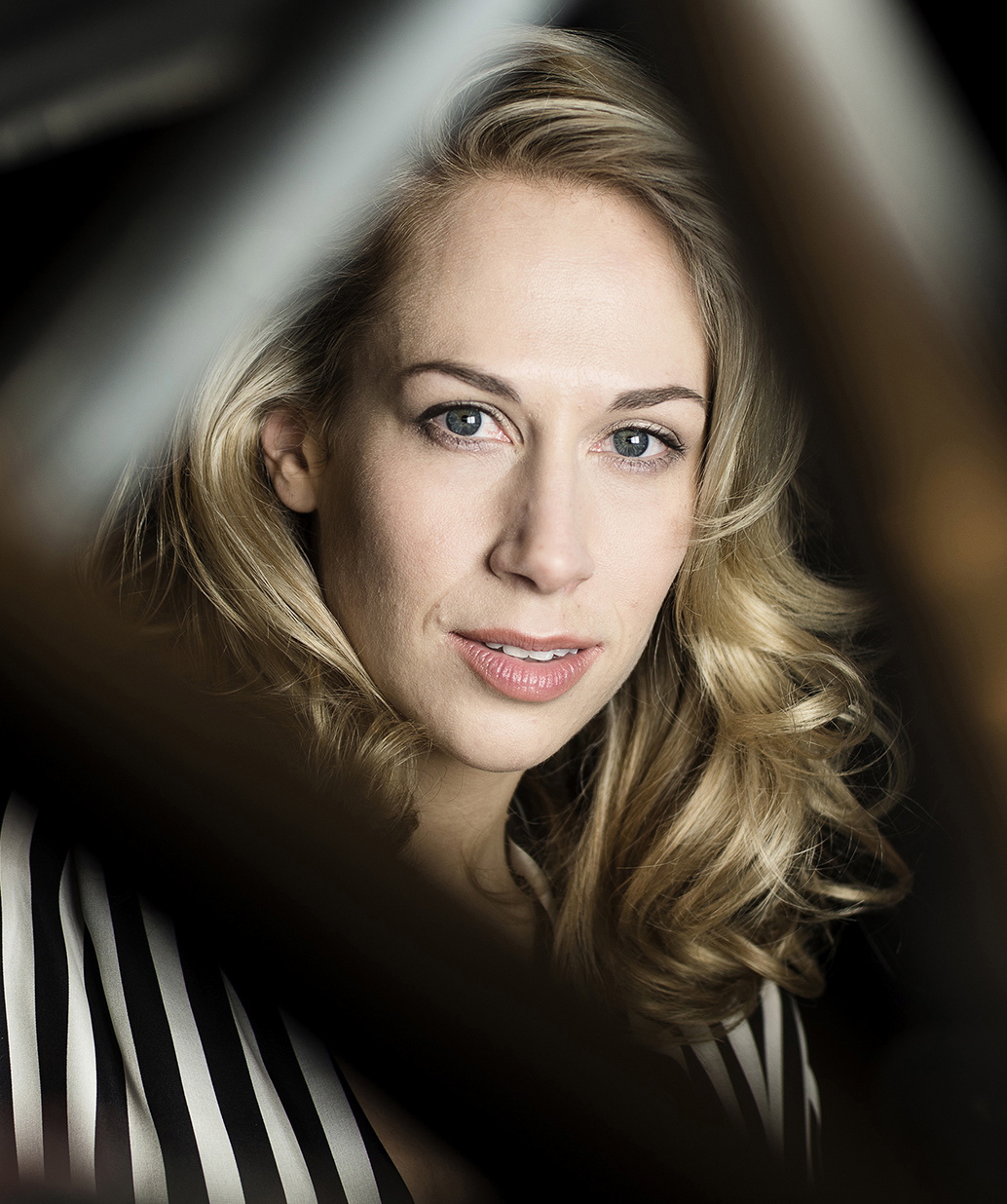 The Norwegian mezzo-soprano began singing at the early age of five. After studying at the Toneheim College of Music in Hammer and at the Stavanger Conservatoire, she completed her training in the USA, where she was awarded several diplomas as a singer and actress.
In the 2009/2010 season, Julie-Marie Sundal was a member of the International Opera Studio at the theatre in Lübeck, where she sang roles like Erda in DAS RHEINGOLD and SIEGFRIED, Schwertleite in DIE WALKÜRE and Flosshilde in GÖTTERDÄMMERUNG – the latter production was awarded the ECHO Klassik Prize as Best Opera DVD in 2011/2012.
As an ensemble member at the State Theatre of Lower Saxony in Hanover between 2011/12 season and 2018/2019 season, she has sung in Wagner's RING Cycle (director: Barry Kosky) and in Puccini's IL TRITTICO (director: Sebastian Baumgarten). Other roles include Hansel in HANSEL AND GRETEL, Mistress Quickly in FALSTAFF, Dryad in ARIADNE AUF NAXOS, Flora in LA TRAVIATA, Olga in EUGENE ONEGIN, Ulrica in UN BALLO IN MASCHERA, Mary in THE FLYING DUTCHMAN, Prince Orlofskiy in DIE FLEDERMAUS, Baroness Grünwiesel in Hans Werner Henze´s DER JUNGE LORD and Ottone (L´INCORONAZIONE DI POPPEA).
Guest engagements have taken Julie-Marie Sundal to the theatre Koblenz and to the Opera House in Daegu (Korea) as Mary in THE FLYING DUTCHMAN, to the theatre Lübeck for the title role of Carl Heinrich Graun´s MONTEZUMA, to the theatre Bremen as Sonjetka in LADY MACBETH OF MZENSK and to the Aalto Theater in Essen, to the Staatstheater Nürnberg and to the theatre Lübeck for RING cycles.
In addition to her opera work, Julie-Marie Sundal has enjoyed success on the concert stage. Lieder recitals have seen the young singer perform in Japan, Germany, the USA and her Norwegian homeland. She has sung in Beethoven's Ninth Symphony in Hong Kong, Handel's Messiah in Norway, and Mahler's Second Symphony and Stravinsky's Les with the State Orchestra of Hanover. In November 2013 she sang a recital of Wagner's-Wesendonck Lieder in Hanover.
2022-08-30
| | | |
| --- | --- | --- |
| Bernstein | CANDIDE | Paquette |
| Birtwistle | PUNCH AND JUDY | Judy |
| Bizet | CARMEN | Mercédès |
| Dalbavie | CHARLOTTE SALOMON | Kunststudentin aus Tirol |
| Giordano | ANDRÉ CHENIER | Gräfin Coigny |
| Henze | Der junge Lord | Baronin Grünwiesel |
| Martinu | LES LARMES DU COUTEAU | Matka (die Mutter) |
| Mozart | COSÌ FAN TUTTE | Dorabella |
|   | DIE ZAUBERFLÖTE | 2. Dame, 3. Dame |
| Mussorgsky | BORIS GODUNOW | Schenkwirtin |
| Offenbach | LE MARIAGE AUX LANTERNES | Catharine |
|   | MESDAMES DE LA HALLE | Madame Beurrefondu, Croûte-au-pot |
| Puccini | GIANNI SCHICCHI | Zita |
| Purcell | DIDO UND AENEAS | Sorceresse |
| Ravel | L'ENFANT ET LES SORTILEGES | L'Enfant |
| Strauss | ARIADNE AUF NAXOS | Dryade |
|   | SALOME | Ein Page des Herodias |
| Tschaikowski | EUGEN ONEGIN | Olga |
| Verdi | LA TRAVIATA | Annina |
| Wagner | DAS RHEINGOLD | Flosshilde, Erda |
|   | DIE WALKÜRE | Siegrune, Schwertleite |
|   | SIEGFRIED | Erda |
|   | GÖTTERDÄMMERUNG | Flosshilde, 1. Norn |
|   | PARSIFAL | 2. Knappe, Blumenmädchen, Stimme aus der Höhe |
| Wolf-Ferrari | ASCHENPUTTEL | Stiefmutter |
Julie-Marie Sundal | alto
Wolfgang Amadeus Mozart | Requiem d-Moll KV 626