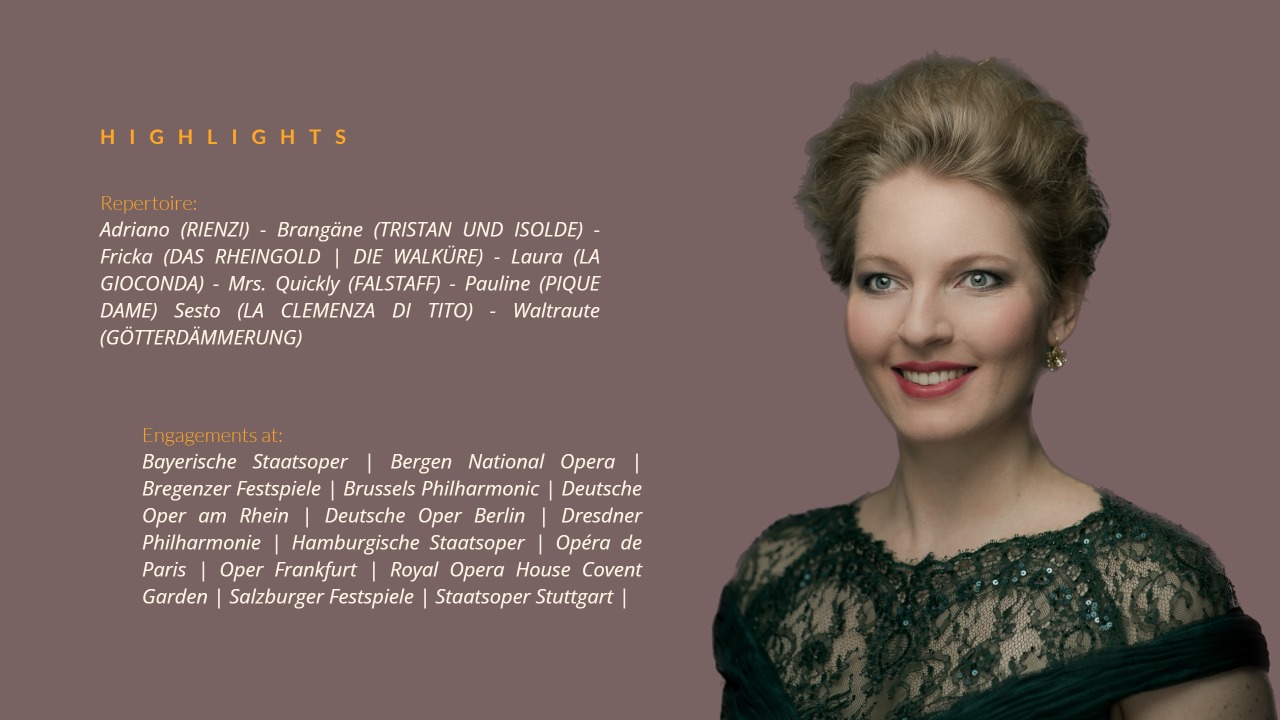 Repertoire:
HIGHLIGHTS
Adriano (RIENZI) - Brangäne (TRISTAN UND ISOLDE) - Fricka (DAS RHEINGOLD | DIE WALKÜRE) - Laura (LA GIOCONDA) - Mrs. Quickly (FALSTAFF) - Pauline (PIQUE DAME) Sesto (LA CLEMENZA DI TITO) - Waltraute (GÖTTERDÄMMERUNG)
Engagements at:
Bayerische Staatsoper | Bergen National Opera | Bregenzer Festspiele | Brussels Philharmonic | Deutsche Oper am Rhein | Deutsche Oper Berlin | Dresdner Philharmonie | Hamburgische Staatsoper | Opéra de Paris | Oper Frankfurt | Royal Opera House Covent Garden | Salzburger Festspiele | Staatsoper Stuttgart |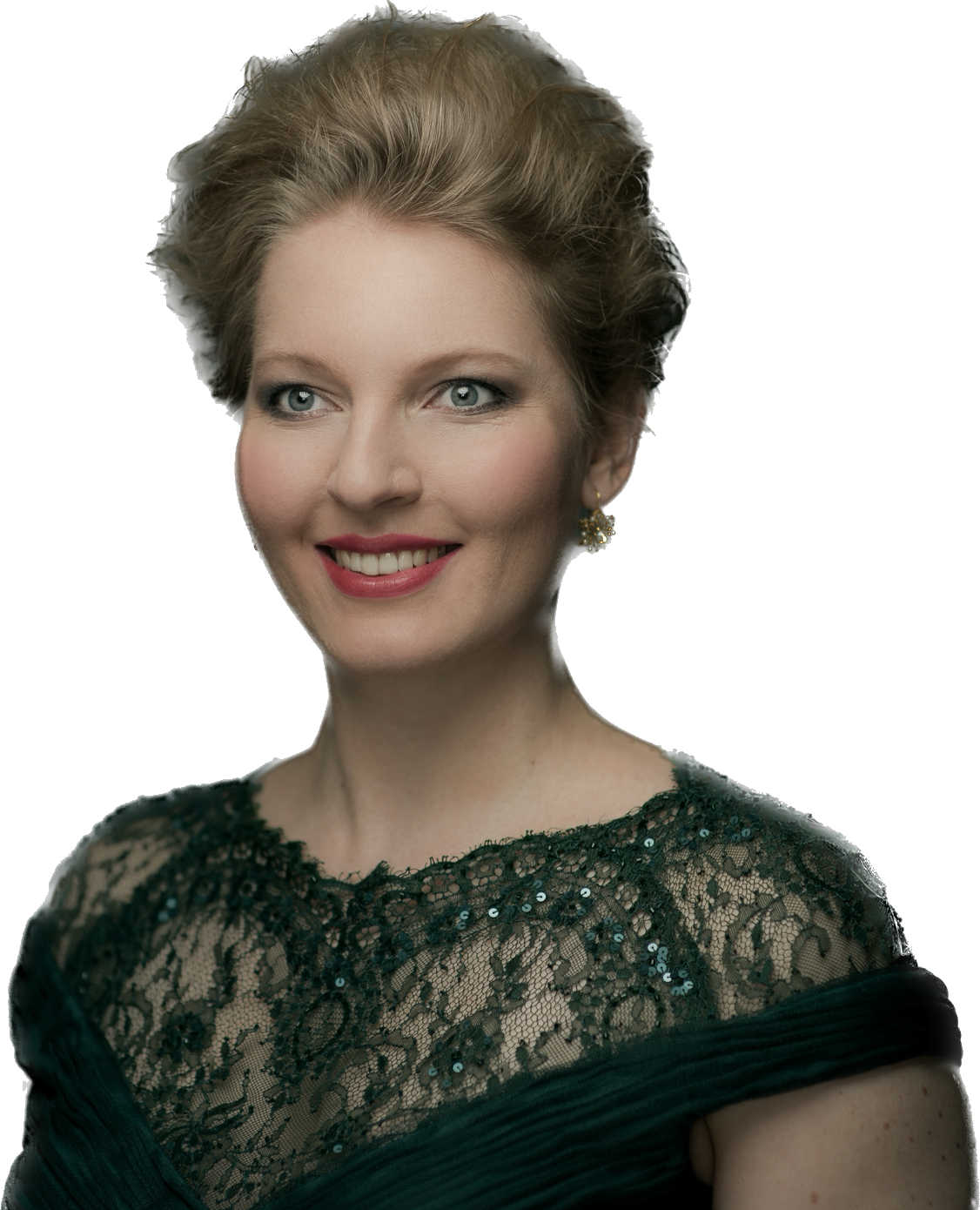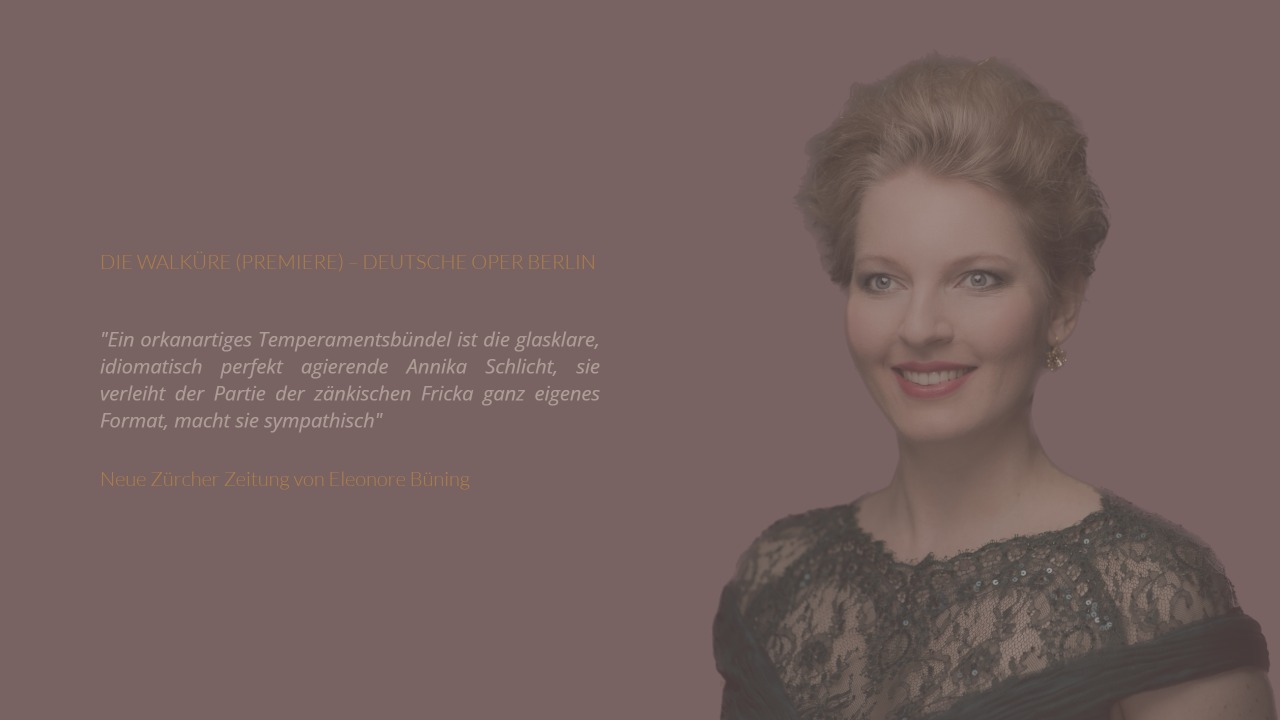 DIE WALKÜRE (PREMIERE) – DEUTSCHE OPER BERLIN
"Ein orkanartiges Temperamentsbündel ist die glasklare, idiomatisch perfekt agierende Annika Schlicht, sie verleiht der Partie der zänkischen Fricka ganz eigenes Format, macht sie sympathisch" - MORE
Neue Zürcher Zeitung von Eleonore Büning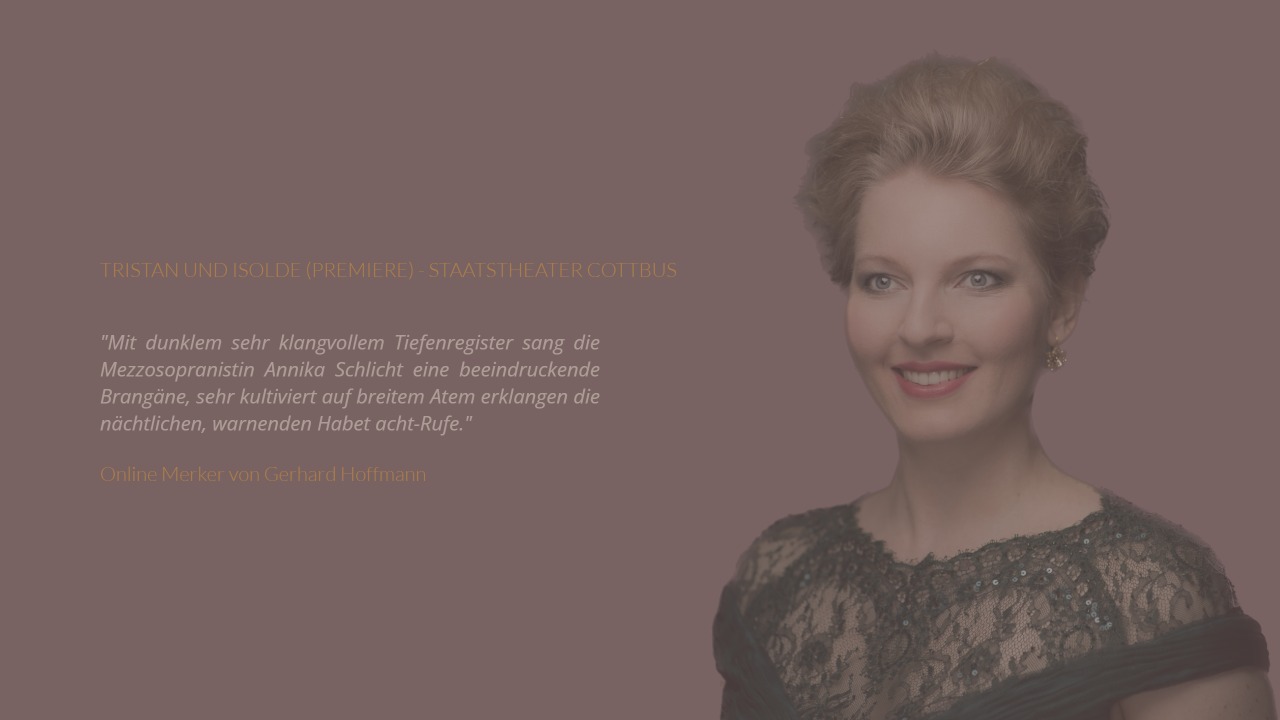 TRISTAN UND ISOLDE (PREMIERE) - STAATSTHEATER COTTBUS
"Mit dunklem sehr klangvollem Tiefenregister sang die Mezzosopranistin Annika Schlicht eine beeindruckende Brangäne, sehr kultiviert auf breitem Atem erklangen die nächtlichen, warnenden Habet acht-Rufe." - MORE
Online Merker von Gerhard Hoffmann
In the summer of 2023 Annika Schlicht will return, together with the orchestra of Klangforum Wien, to the Salzburg festival to perform two concerts.
Following that the Mezzo Soprano was invited by Kent Nagano to record Fricka in Richard Wagner's DAS RHEINGOLD together with Concerto Cologne in a historic informed performance practice and performances in Cologne, Lucerne and Ravello.
In the 2023/24 season, she will make role debuts at the Deutsche Oper Berlin such as Laura/ LA GIOCONDA, Frugola, Zita and Principessa /IL TRITTICO as well as Pauline /PIQUE DAME.
Further roles at the DOB this season include amongst others Fricka in  DASRHEINGOLD and DIE WALKÜRE, Waltraute in GÖTTERDÄMMERUNG and the Alto- and Mezzo Soprano Soli in a scenic version of the ST MATTHEW PASSION and the VERDI REQUIEM, the latter in a coproduction with the Staatsballett Berlin.
More Performances as Brangäne in TRISTAN AND ISOLDE at the Deutsche Oper Berlin as well as her U.S. debut in this role will follow Annika's successful role debut at State theatre Cottbus in 2023.
Born in Stuttgart, Annika Schlicht studied at the "Hochschule für Musik Hanns Eisler" Berlin with professor Renate Faltin.
In 2015/16, she joined the Deutsche Oper Berlin as a member of the ensemble.
In past seasons, she appeared as Fricka in DAS RHEINGOLD and DIE WALKÜRE as well as Waltraute in GÖTTERDÄMMERUNG in a new RING CYCLE directed by Stefan Herheim. This RING CYCLE was released on DVD by NAXOS.
As Fricka in DAS RHEINGOLD, Annika returned to the Bregenz Festival and made her house debut with DIE WALKÜRE at Stuttgart State Opera.
Annika Schlicht has already performed numerous roles such as Fenena/NABUCCO, Adriano/RIENZI, Mrs Quickly/FALSTAFF, Prince Orlovsky/DIE FLEDERMAUS, Magdalene MEISTERSINGER OF NUREMBERG, Hansel/HANSEL AND GRETEL, Olga/EUGENE ONEGIN, Dorabella/COSI FAN TUTTE, Marchesa Melibea/VIAGGIO A REIMS, Maddalena/RIGOLETTO, Auntie /PETER GRIMES, Siegrune/DIE WALKÜRE as well as Flosshilde in DAS RHEINGOLD and GÖTTERDÄMMERUNG.
Due to an acclaimed Auntie/PETER GRIMES at the Bergen International Festival in 2017, she was reinvited to make her debut as Sesto in LA CLEMENZA DI TITO at the Bergen National Opera in 2020.
Most recent guest engagements have taken her to the Royal Opera Houses of London and Muscat, Frankfurt Opera, the Hamburg State Opera and Elbphilharmonie, the Bavarian State Opera, the Opèra de Paris, the Semperoper Dresden, the Berlin State Opera and the Deutsche Oper am Rhein in Dusseldorf.
While still a student, Annika Schlicht was engaged on a scholarship from the Liz Mohn Foundation for Culture and Music at the International Opera Studio of the Staatsoper Unter den Linden in Berlin and debuted in the seasons 2013/14 and 2014/15 in various smaller and medium roles.
Master classes with Julia Varady and Dietrich Fischer-Dieskau, Deborah Polaski, Patricia McCaffrey and Brigitte Fassbaender, who is still a mentor of the singer, have had a deep effect upon the young artist. She is the recipient of the Richard Wagner Association scholarship and has won prizes at numerous competitions.
In 2014, Annika Schlicht joined the Salzburg Festivals Young Singers Project and made her Festival Debut as Angelina in a children's version of Rossini's LA CENERENTOLA and in the world premiere of Marc-André Dalbavie's CHARLOTTE SALOMON. That same summer, she was invited by the eminent Brigitte Fassbaender to present the Lieder matinee at the "Eppaner Liedsommer" featuring works by Richard Strauss. Since then, Brigitte Fassbaender has been mentoring the singer.
Annika Schlicht's extensive operatic work is supplemented regularly by her appearances in concerts and as a Lieder singer. Gustav Mahler's DAS LIED VON DER ERDE in Klagenfurt and Pordenone and his III. Symphony in Dresden, Antonín Dvořák's Stabat Mater in Poland, Giuseppe Verdi's MESSA DA REQUIEM in Essen, Ludwig van Beethoven's IX. SYMPHONIE in Brussels Berlin and Antwerp, Johannes Brahms' ALT-RHAPSODIE, Giovanni Battista Pergolesi's STABAT MATER, Johann Sebastian Bach's CHRISTMAS ORATORIO, Richard Wagner's WESENDONCK LIEDER, Antonio Vivaldi's GLORIA, Wolfgang Amadeus Mozart's REQUIEM in Riga, Felix Mendelssohn Bartholdy's SAINT PAUL and ELIJAH, Lili Boulanger's AU FOND DE L'ABÎME in Munich as well as Igor Kuljerić's GLAGOLITIC REQUIEM in Zagreb are just a few highlights from her repertoire to date.
She has worked with such celebrated conductors as Daniel Barenboim, Zubin Mehta, Sir Donald Runnicles, Ivan Repušić, John Fiore, Alondra de la Parra, Enrique Mazzola, Asher Fisch, Edward Gardner, Stéphane Denève , Kent Nagano, Alexander Soddy, Ulf Schirmer, Axel Kober, Ingo Metzmacher, Christopher Moulds, Stefan Soltesz, Sebastian Weigle and directors Harry Kupfer, Hans Neuenfels, Stefan Herheim, Luc Bondy, Claus Guth, Jossi Wieler, Dmitri Tcherniakov and Johannes Erath and sung with the Staatskapelle Berlin, Radio Symphony Orchestra Berlin and Deutsches Symphonie-Orchester Berlin, with the Wiener Symphoniker, the Brussels Philharmonic, the Staatskapelle Dresden, the Dresden Philarmonic, the Munich Radio Orchestra, the Hamburg Philharmonic State Orchestra, the Bremen Philharmonic and the Ensemble Modern.
She sang Wagner's WESENDONCK LIEDER with the orchestra of the Deutsche Oper Berlin under the baton of Sir Donald Runnicles at the Ravello Festival in the summer of 2018.
To mark the centenary of the end of the First World War, Annika Schlicht was engaged by the UNESCO World Orchestra for Peace as a soloist in Beethoven's Ninth Symphony.
2023-08-01
WEBSITE
DISCOGRAPHY
Wagner: DIE WALKÜRE – II. Aufzug
Brahms: "Geistliches Wiegenlied"
Wagner: DAS RHEINGOLD (auf dem Parkdeck)
OPERA
| | | |
| --- | --- | --- |
| Berg | WOZZECK | Margret |
| Bernstein | CANDIDE | Paquette |
| Birtwistle | PUNCH AND JUDY | Judy |
| Bizet | CARMEN | Mercédès |
| Britten | A MIDSUMMER NIGHT'S DREAM | Hypolita |
|   | PETER GRIMES | Auntie |
| Dalbavie | CHARLOTTE SALOMON | Kunststudentin aus Tirol |
| Donizetti | LUCIA DI LAMMERMOOR | Alisa |
|   | MARIA STUARDA | Anna Kennedy |
| Giordano | ANDRÉ CHENIER | La Contessa di Coigny |
| Humperdinck | HÄNSEL UND GRETEL | Hänsel |
| Janácek | DAS SCHLAUE FÜCHSLEIN | Försterin, Specht |
| Martinu | LES LARMES DU COUTEAU | Matka (die Mutter) |
| Mozart | COSÌ FAN TUTTE | Dorabella |
|   | DIE ZAUBERFLÖTE | 2. Dame |
|   | LA CLEMENZA DI TITO | Sesto |
| Mussorgsky | BORIS GODUNOW | Schenkwirtin |
| Offenbach | LE MARIAGE AUX LANTERNES | Catharine |
|   | LES CONTES D'HOFFMANN | Voix de la mère |
|   | MESDAMES DE LA HALLE | Madame Beurrefondu, Croûte-au-pot |
| Prokofjew | DIE LIEBE ZU DEN 3 ORANGEN | Prinzessin Clarisse |
| Puccini | GIANNI SCHICCHI | Zita |
|   | MANON LESCAUT | Der Musiker |
| Purcell | DIDO UND AENEAS | Sorceresse |
| Ravel | L'ENFANT ET LES SORTILEGES | L'Enfant |
| Reimann | L'INVISIBLE | Marthe / Bellangère |
| Rossini | IL VIAGGIO A REIMS | Marquise Melibea |
| Schostakowitsch | LADY MACBETH VON MZENSK | Sonyetka |
| Srnka | MAKE NO NOISE | Inge |
| Strauß, Johann | DIE FLEDERMAUS | Prinz Orlofsky |
| Strauss, Richard | ARIADNE AUF NAXOS | Dryade |
|   | ELEKTRA | 1. Magd |
|   | SALOME | Ein Page |
| Tschaikowski | EUGEN ONEGIN | Olga |
| Verdi | FALSTAFF | Mrs. Quickly |
|   | LA TRAVIATA | Annina |
|   | NABUCCO | Fenena |
|   | RIGOLETTO | Giovanna, Maddalena |
| Wagner | DAS RHEINGOLD | Fricka, Flosshilde |
|   | DIE WALKÜRE | Fricka, Siegrune |
|   | GÖTTERDÄMMERUNG | Waltraute, 2. Norn, Flosshilde |
|   | DER FLIEGENDE HOLLÄNDER | Mary |
|   | DIE MEISTERSINGER VON NÜRNBERG | Magdalena |
|   | PARSIFAL | 2. Knappe, Blumenmädchen, Stimme aus der Höhe |
|   | RIENZI | Adriano |
|   | TRISTAN UND ISOLDE | Brangäne |
| Wolf-Ferrari | ASCHENPUTTEL | Stiefmutter |
CONCERT
| | |
| --- | --- |
| Johann Sebastian Bach | h-Moll-Messe (BWV 232) |
|   | Johannes-Passion (BWV 245) |
|   | Matthäus-Passion (BWV 244) |
|   | Weihnachtsoratorium (BWV 248) |
| Ludwig van Beethoven | Chorfantasie c-Moll op. 80 |
|   | Sinfonie Nr. 9 (d-Moll) op. 125 |
| Lili Boulanger | Psaume 130 Du fond de l'abîme für Alt und Tenor solo, Chor, Orgel und Orchester |
| Max Bruch | Gruß an die heilige Nacht op. 62 |
| Gaetano Donizetti | Messa da Requiem, Op. 73 |
| Antonín Dvořák | Stabat Mater, op. 58 (B 71) |
| Manuel de Falla | El Sombrero de Tres Picos |
| Georg Friedrich Händel | Messiah, HWV 56 |
| Igor Kuljerić | Kroatisches glagolitisches Requiem für Soli, Chor und Orchester |
| Gustav Mahler | Das Lied von der Erde |
|   | Rückert-Lieder |
| Felix Mendelssohn Bartholdy | Die erste Walpurgisnacht, op. 60 (MWV D 3) |
|   | Elias op. 70 (MWV A 25) |
|   | Paulus op. 36 (MWV A 14) |
| Wolfgang Amadeus Mozart | Missa brevis in G "Pastoralmesse", KV 140 |
|   | Requiem in d-Moll, KV 626 |
| Dora Pejačević | Vier Lieder für Stimme und Orchester (Arr. Ivan Zivanovic) |
| Giovanni Battista Pergolesi | Stabat mater |
| Gioachino Rossini | Petite Messe solennelle |
| Camille Saint-Saëns | Oratorio de Noël, op. 12 |
| Arnold Schönberg | Gurre-Lieder, Waldtaube |
| Robert Schumann | Der Rose Pilgerfahrt op.112 |
| Salvatore Sciarrino | Infinito Nero — Estasi di un atto für Mezzosopran und Instrumente |
| Giuseppe Verdi | Messa da Requiem |
| Antonio Vivaldi | Gloria, RV 589 |
| Claude Vivier | Wo bist du Licht! für Mezzosopran, Schlagzeug, Streicher und Tonband |
| Richard Wagner | Wesendonck-Lieder |