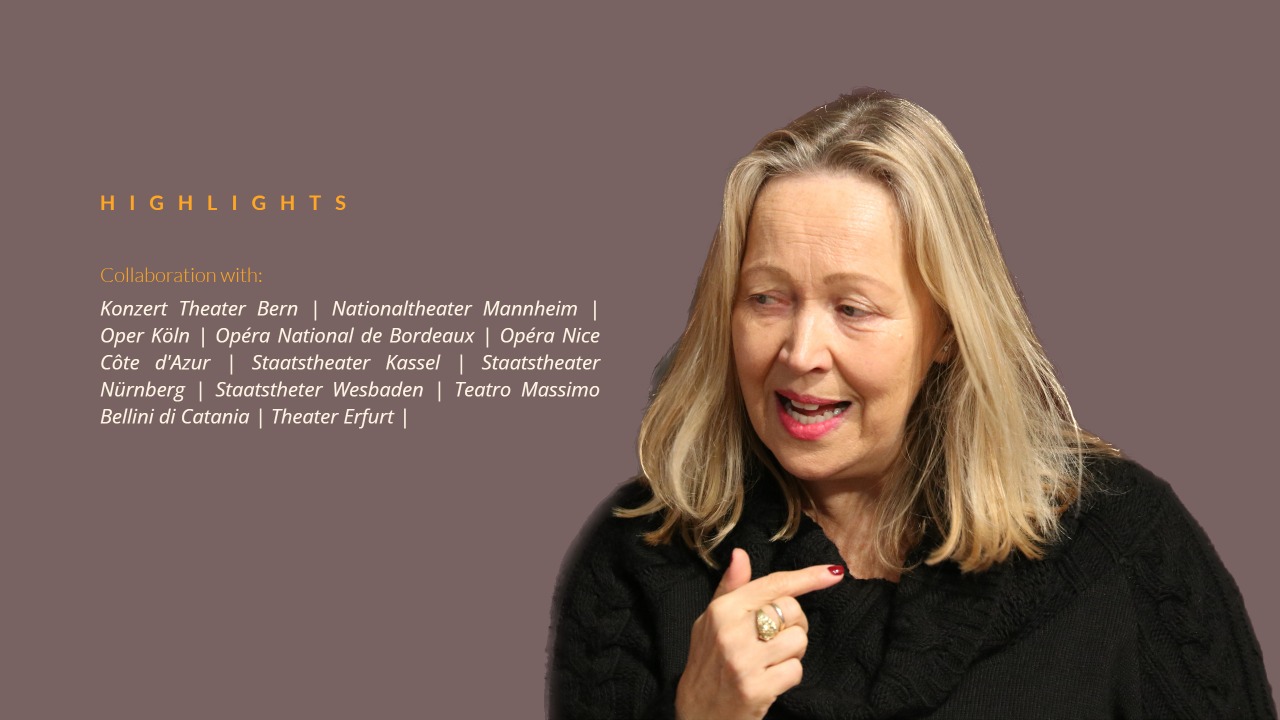 HIGHLIGHTS
Collaboration with:
Konzert Theater Bern | Nationaltheater Mannheim | Oper Köln | Opéra National de Bordeaux | Opéra Nice Côte d'Azur | Staatstheater Kassel | Staatstheater Nürnberg | Staatstheter Wesbaden | Teatro Massimo Bellini di Catania | Theater Erfurt |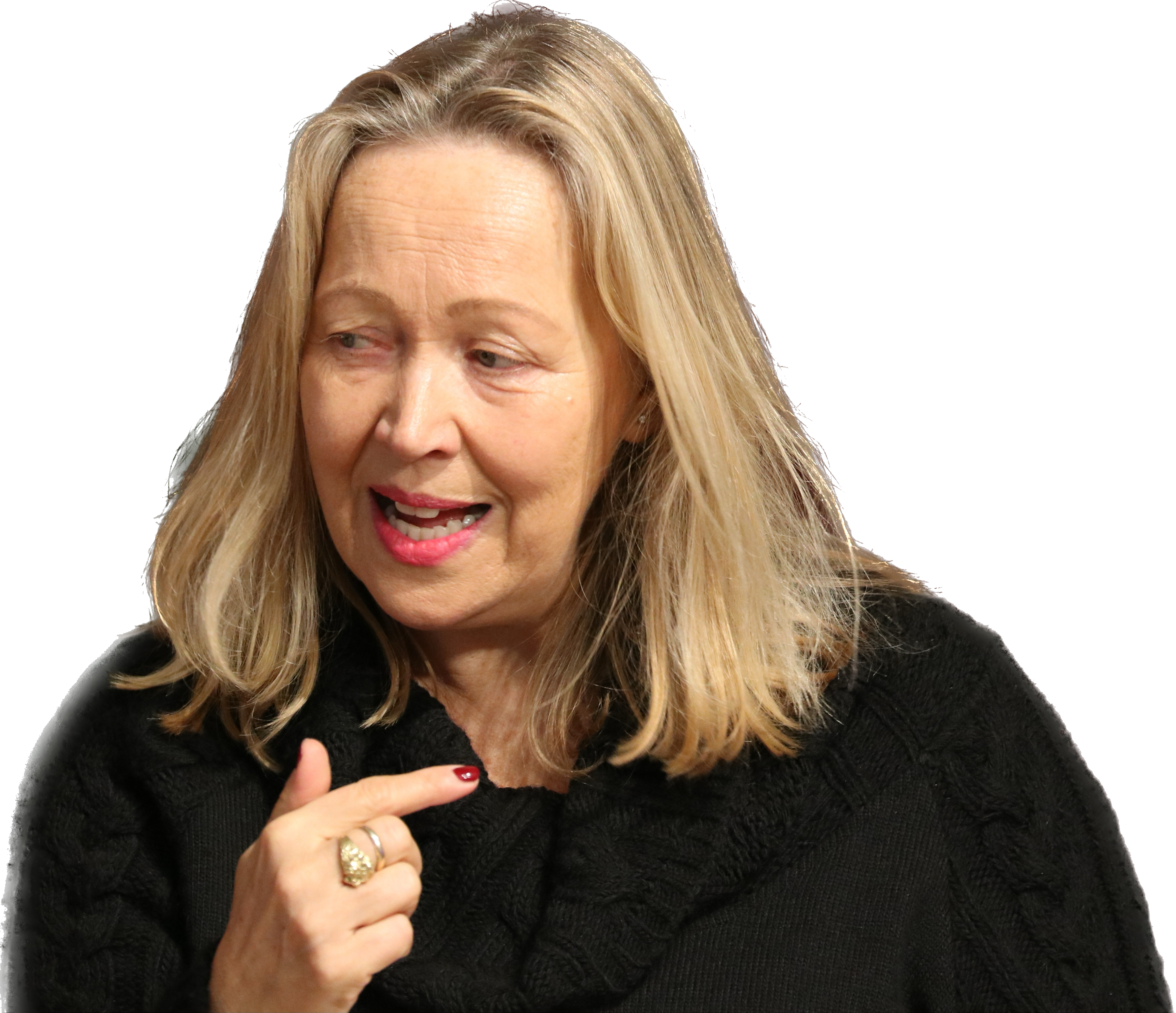 With over 80 productions, the Director Gabriele Rech, who has been nominated and awarded several times (Theaterpreis Gelsenkirchen 2017, three times nominated for the best production NRW 2017, nominated for the artist prize NRW, audience award for the best production of the year 2008 for "La nonne sanglante" in Osnabrück as well as numerous mentions in the critics – annual surveys the trade press as the production of the year, her "Magic Flute" in Weimar, the "Winterreise" in Bielefeld and "Hoffmann's Tales" in Kassel were voted the best by the trade journal Opernwelt in comparison with other productions of the works) at numerous major stages in Germany, Austria, Switzerland, Italy and France with highly acclaimed music theater productions.
After studying German and English and working as a freelance acting assistant, Rech initially worked for several years as an assistant director at the Musiktheater im Revier. She immediately received the Gelsenkirchen Theater Prize for her directorial debut there. Since then she has worked as a freelance director on over 80 productions throughout Europe.
Since April 2010 she has been a professor for scenic instruction at the Cologne University of Music and Dance.
2023-08-01
WEBSITE
Musiktheater im Revier | MADAMA BUTTERFLY
Staatstheater Wiesbaden | NORMA
Pfalztheater Kaiserslautern | TANNHÄUSER
| | | |
| --- | --- | --- |
| 2022 | Richard Wagner: TANNHÄUSER | Pfalztheater Kaiserslautern |
|   | Wolfgang Amadeus Mozart: DIE ZAUBERFLÖTE | DNOA Amsterdam |
|   | Giacomo Puccini: MADAMA BUTTERFLY | Musiktheater im Revier Gelsenkirchen |
| 2019 | Richard Strauss: SALOME | Nationaltheater Mannheim |
|   | Benjamin Britten: THE RAPE OF LUCRETIA | HFMT Köln |
| 2018 | EIN FEST FÜR ROSSINI | HFMT Köln |
|   | Giuseppe Verdi: OTELLO | Staatstheater Nürnberg |
|   | Vincenzo Bellini: NORMA | Staatstheater Wiesbaden |
| 2017 | Mieczysław Weinberg: DIE PASSAGIERIN | Musiktheater im Revier Gelsenkirchen |
| 2016 | Johann Strauss II: DIE FLEDERMAUS | Staatstheater Wiesbaden |
|   | Jacques-Fromental Halévy: LA JUIVE | Staatstheater Nürnberg |
| 2015 | Jacques-Fromental Halévy: LA JUIVE | Opera de Nice |
|   | Vincenzo Bellini: NORMA | Staatstheater Wiesbaden |
| 2014 | WINTERREISE | HFMT Köln |
| 2013 | Giuseppe Verdi: OTELLO | Opera de Bordeaux |
|   | Giuseppe Verdi: OTELLO | Staatstheater Nürnberg |
|   | Giacomo Puccini: GIANNI SCHICCI | Oper Köln |
|   | Alois Bröder: DIE FRAUEN DER TOTEN | Theater Erfurt |
| 2012 | Manfred Trojahn: LA GRANDE MAGIA | Musiktheater im Revier Gelsenkirchen |
| 2011 | Edward Rushton: LEINEN AUS SMYRNA | HFMT Köln |
|   | Franz Schreker: DER FERNE KLANG | Staatstheater Nürnberg |
|   | Erich Wolfgang Korngold: DIE TOTE STADT | Stadttheater Bern |
|   | Vittorio Gnecchi: CASSANDRA | Teatro Massimo Bellini, Catania |
| 2010 | Richard Strauss: ELEKTRA | Oper Köln |
|   | Richard Strauss: ELEKTRA | Teatro Massimo Bellini, Catania |
| 2009 | Georges Bizet: CARMEN | Nationaltheater Mannheim |
|   | Giacomo Puccini: MANON LESCAUT | Staatstheater Kassel |
|   | Erich Wolfgang Korngold: DIE TOTE STADT | Staatstheater Nürnberg |
|   | Emmerich Kálmán: DIE HERZOGIN VON CHICAGO | Musiktheater im Revier Gelsenkirchen |
| 2008 | Albert Lortzing: DER WILDSCHÜTZ | Nationaltheater Mannheim |
|   | Richard Strauss: SALOME | Staatstheater Kassel |
|   | Giacomo Puccini: IL TRITTICO | Nationaltheater Mannheim |
|   | Paul Hindemith: NEUES VOM TAGE | Landestheater Linz |
|   | Charles Gounod: LA NONNE SANGLANTE | Theater Osnabrück |
| 2007 | Jacques Offenbach: HOFFMANNS ERZÄHLUNGEN | Staatstheater Kassel |
|   | Guiseppe Verdi: SIMONE BOCCANEGRA | Musiktheater im Revier Gelsenkirchen |
|   | Leoš Janáček: KATJA KABANOVA | Staatstheater Kassel |
| 2006 | Giuseppe Verdi: OTELLO | Landestheater Linz |
|   | Dmitri Schostakowitsch: LADY MACBETH VON MZENSK | Nationaltheater Weimar |
|   | Leoš Janáček: OSUD | Staatstheater Kassel |
|   | Richard Strauss: SALOME | Nationaltheater Mannheim |
| 2005 | Giacomo Puccini: TOSCA | Musiktheater im Revier Gelsenkirchen |
|   | Wolfgang Amadeus Mozart: COSÌ FAN TUTTE | Theater Dortmund |
|   | Pjotr Iljitsch Tschaikowsky: PIQUE DAME | Staatstheater Oldenburg |
| 2004 | Franz Schubert: WINTERREISE | Theater Bielefeld |
|   | Guiseppe Verdi: DON CARLO | Staatstheater Kassel |
|   | Gaetano Donizetti: ROSAMONDA D'INGHILTERRA | Musiktheater im Revier Gelsenkirchen |
|   | Gaetano Donizetti: VIVA LA MAMMA | Nationaltheater Weimar |
|   | Giacomo Puccini: GIANNI SCHICCI | Nationaltheater Weimar |
| 2003 | Richard Strauss: DER ROSENKAVALIER | Städtische Bühnen Münster |
|   | Francesco Cilea: ADRIANA LECOUVREUR | Oper Graz |
|   | Reinhard Keiser: DIANA ODER DER SICH RÄCHENDE CUPIDO | De Vlaamse Opera |
|   | Wolfgang Amadeus Mozart: GÄRTNERIN AUS LIEBE | Musiktheater im Revier Gelsenkirchen |
|   | Guiseppe Verdi: LA TRAVIATA | Städtische Bühnen Bielefeld |
| 2002 | Ludwig van Beethoven: FIDELIO | Musiktheater im Revier Gelsenkirchen |
|   | Jacques Offenbach: LES CONTES D'HOFFMANN | Städtische Bühnen Münster |
|   | Modest Petrowitsch Mussorgski: BORIS GUDONOV | Musiktheater im Revier Gelsenkirchen |
|   | Johann Strauss II: DIE FLEDERMAUS | Theater Graz |
| 2001 | Gaetano Donizetti: LUCIA DI LAMMERMOOR | Städtische Bühnen Bielefeld |
|   | Wolfgang Amadeus Mozart: DIE ZAUBERFLÖTE | Nationaltheater Weimar |
|   | Claudio Monteverdi: IL RITORNO D'ULISSE IN PATRIA | Schillertheater NRW Gelsenkirchen |
|   | Alban Berg: LULU | Städtische Bühnen Bielefeld |
| 2000 | Giacomo Puccini: MADAMA BUTTERFLY | Anhaltisches Theater Dessau |
|   | Jacques Offenbach: PARISER LEBEN | Schillertheater NRW Gelsenkirchen |
|   | Francesco Cilea: ADRIANA LECOUVREUR | Bremer Theater |
| 1999 | Giacomo Puccini: LA BOHÈME | Schillertheater NRW Gelsenkirchen |
|   | Wolfgang Amadeus Mozart: DON GIOVANNI | Städtische Bühnen Bielefeld |
|   | Claude Debussy: PELLEAS ET MÉLISANDE | Schillertheater NRW Gelsenkirchen |
| 1998 | Charles Counod: MARGARETHE | Schillertheater NRW Gelsenkirchen |
|   | Luigi Dallapiccola: DER GEFANGENE | Städtische Bühnen Bielefeld |
|   | Hans Werner Henze: EIN LANDARZT | Städtische Bühnen Bielefeld |
|   | Samuel Bächli: GEFÄHRLICHE LIEBSCHAFTEN | Schillertheater NRW Gelsenkirchen |
|   | Georges Bizet: CARMEN | Staatstheater Wiesbaden |
| 1997 | Giacomo Puccini: MADAMA BUTTERFLY | Landestheater Detmold |
|   | Wolfgang Amadeus Mozart: LA CLEMENZA DI TITO | Schillertheater NRW Gelsenkirchen |
|   | Jacques Offenbach: HOFFMANNS ERZÄHLUNGEN | Schillertheater NRW Gelsenkirchen |
|   | Albert Lortzing: DER WILDSCHÜTZ | Landestheater Detmold |
| 1996 | Ermanno Wolf-Ferrari: DIE VIER GROBIANE | Landestheater Detmold |
| 1995 | Pietro Mascagni: CAVALLERIA RUSTICANA | Musiktheater im Revier Gelsenkirchen |
|   | Ruggero Leoncavallo: PAGLIACCI | Musiktheater im Revier Gelsenkirchen |
| 1994 | Giacomo Puccini: MADAMA BUTTERFLY | Musiktheater im Revier Gelsenkirchen |
| 1993 | Paul Maar: EINE WOCHE VOLLER SAMSTAGE | Musiktheater im Revier Gelsenkirchen |
| 1992 | Erich Kästner: PÜNKTCHEN UND ANTON | Musiktheater im Revier Gelsenkirchen |