GIUSEPPE VERDI: LUISA MILLER (REVIEWS)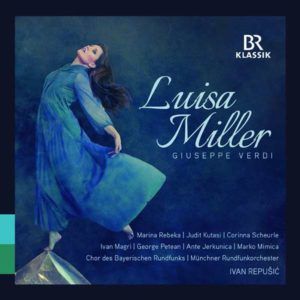 Luisa Miller – Marina Rebeka (soprano)
Laura – Corinna Scheurle (mezzo-soprano)
Federica – Judit Kutasi (mezzo-soprano)
Rodolfo – Ivan Magrì (tenor)
Miller – George Petean (baritone)
Count Walter – Marko Mimica (bass-baritone)
Wurm – Ante Jerkunica (bass)
A peasant – Bernhard Schneider (tenor)
Chor des Bayerischen Rundfunks
Münchner Rundfunkorchester/Ivan Repušić
Rec. live, 22 and 24 September 2017, Prinzregententheater, Munich
BR KLASSIK 900323 [56:19 + 77:23]
---
Here are the most relevant quotes from reviews in the German and international press.
This selection does not claim to be complete.
---
Culturale GB Opera by Giordano Cavagnino (May 14, 2018)
GIUSEPPE VERDI (1813 – 1901): "LUISA MILLER" (1849)
…La parte strumentale è affrontata da Ivan Repušić con sensibilità e intelligenza. Il giovane direttore croato si conferma personaggio da seguire fra le figure emergenti della scena europea. La sua lettura evita giustamente di proiettare l'opera oltre il suo tempo e piuttosto guarda all'indietro verso quella tradizione belcantista che dell'opera verdiana – specie per i titoli precedenti la "trilogia popolare" – è l'humus di coltura naturale. Ecco quindi una direzione dai colori chiari e luminosi, dai ritmi brillanti di un sapore quasi donizettiano – si sentano al riguardo i fiati dell'ouverture quasi rossiniani nella conduzione – che contribuisce ad evidenziare l'unità stilistica di un'opera apparente incoerente nella sua natura transizionale tra attaccamenti al passato nei momenti più virtuosistici e improvvise aperture verso il futuro. Repušić riesce in qualche modo a far quadrare il cerchio fondendo in una visione unitaria le varie componenti le cui differenze risultano più apparenti che sostanziali….
---
…This latest addition to the catalogue was recorded live at two performances in the Prinzregententheater in Munich in late September 2017, but there is nothing that indicates the presence of an audience or stage movements or other sonic disturbances. It is a well-balanced sound picture which registers the many felicities of orchestration, for instance the airy woodwind writing at the opening of Act III. Ivan Repušić, whose recording of Puccini's La rondine with the same Munich forces I reviewed recently, seems equally at home in Verdi as in late Puccini…
---
ONLINE MERKER by Dr. Ingobert Waltenberger (March 18, 2018)
VERDI: LUISA MILLER – Ivan Repusic, Marina Rebeka, Ivan Magri, George Petean, Ante Jerkunica
Münchner Rundfunkorchester unter Ivan Repušić, BR Klassik
…mit der herausragenden Orchesterleistung und dem engagiert suggestiven Dirigat des hochmusikalischen und passionierten neuen Chefdirigenten des Münchner Rundfunkorchesters Ivan Repušić neue Maßstäbe setzen. Ein echtes Theaterblut dieser Repušić. Er ist seit einem Jahr auch Generalmusikdirektor der Staatsoper Hannover…
---
"Luisa Miller" aus München bei BR Klassik
Toll dirigiert
…Ivan Repusic hat das Werk mit dem Münchner Rundfunkorchester und dem Chor des Bayerischen Rundfunks für die Reihe BR Klassik aufgenommen und weiß bereits mit der Sinfonia davon zu überzeugen, dass er sich auf das Brio der frühen Verdi-Opern versteht und es seinem Orchester zu entlocken weiß. Die Kontraste zwischen der ländlichen Idylle und dem dramatischen Geschehen werden fein herausgearbeitet, nicht nur im Vorspiel, sondern zum Beispiel auch im ersten Finale, wo erst der Schluss nach eher getragen klingender Auseinandersetzung zwischen Vater und Sohn umso rasanter ausfällt…
---