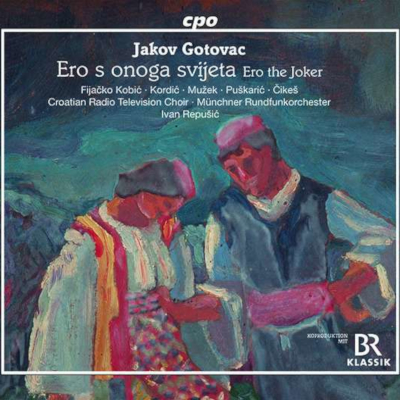 Valentina Fijačko Kobič, soprano – Đula, Marko's daughter from his first marriage
Jelena Kordič, mezzo-soprano – Doma, Marko's second wife
Tomislav Mužek, tenor – Mića, named Ero
Ljubomir Puškarič, baritone – Sima, the miller
Ivica Čikeš, bass – Marko, a rich peasant
Suzana Češnjaj, soprano – A young shepherd
Croatian Radio Television Choir
Luka Vukšić, chorus master
Munich Radio Orchestra
Ivan Repušić, direction
---
Here are the most relevant quotes from reviews in the German and international press.
This selection does not claim to be complete.
---
…The orchestra is vividly recorded and play extremely well, and the conductor, Ivan Repušić generates a feeling of total commitment from everyone…
---
Orpheus by Karin Coper
Kroatische Lieblingsoper
…Ivan Repušić dirigiert das flott aufspielende Münchner Rundfunkorchester mit viel Herzblut, Temperament und pulsierender Rhythmik…
---
Jakov Gotovac' kroatische Volksoper
"Ero der Schelm" liegt in einer mustergültigen CD-Einspielung vor.
…In der neuen Aufnahme schlägt das Pendel zugunsten der Energie aus, was vor allem dem Dirigenten Ivan Repušić am Pult des Münchner Rundfunkorchesters und einer glänzenden Leistung der kroatischen Solisten und des Chors des kroatischen Rundfunks zu verdanken ist: Alle Temperamentsausbrüche wirken echt, und die rhythmischen Triebkräfte wirken so frühlingsfrisch und originell, dass man sich dem Charme dieser Oper nicht zu entziehen vermag. Besser kann man dieses Werk wohl nicht aufführen…
---